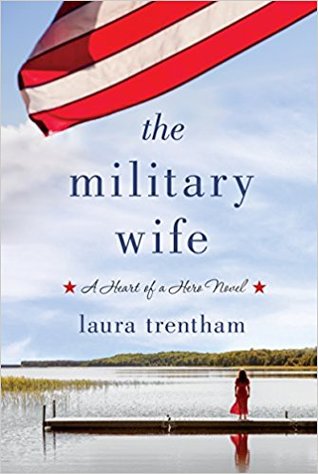 The Military Wife by Laura Trentham– Harper Lee Wilcox has been marking time in her hometown of Kitty Hawk, North Carolina since her husband, Noah Wilcox's death, nearly five years earlier. With her son Ben turning five and living at home with her mother, Harper fights a growing restlessness, worried that moving on means leaving the memory of her husband behind.
Her best friend, Allison Teague, is dealing with struggles of her own. Her husband, a former SEAL that served with Noah, was injured while deployed and has come home physically healed but fighting PTSD. With three children under foot and unable to help her husband, Allison is at her wit's end.
In an effort to reenergize her own life, Harper sees an opportunity to help not only Allison but a network of other military wives eager to support her idea of starting a string of coffee houses close to military bases around the country.
In her pursuit of her dream, Harper crosses paths with Bennett Caldwell, Noah's best friend and SEAL brother. A man who has a promise to keep, entangling their lives in ways neither of them can foresee. As her business grows so does an unexpected relationship with Bennett. Can Harper let go of her grief and build a future with Bennett even as the man they both loved haunts their pasts?
Genre: Contemporary Romance
Published: February 5, 2019
Acquired: Public library e-book
Series: #1 in Heart of a Hero series
My Rating: 4 Stars
My Thoughts: I'm a real sucker for military romance stories, probably because my dad was army and it's the life I knew as a kid. This story was an emotional journey between a war widow and her deceased husband's best friend. I liked that it wasn't a fluffy read. The story line touched on some real issues going on within military families including PTSD, death, loneliness, and the pain of moving on.
Harper is raising her son, Ben, alone after the death of her husband. She is trying to move on with her life and one of her first actions towards her new life is to open a coffee shop dedicated to employing military wives. She is helped by one of her best friends, Allison, who is dealing with her own husband's devastating and scary PTSD. Harper needs to use money given to her by Noah, her husband's best friend and fellow SEAL, after her husband's death to start her business. When she seeks him out she doesn't expect how it will change her life. I really enjoyed the build up to their relationship. It was emotional and full of layers, including guilt and fear. Their romance was bittersweet and uncertain at times as they both tried to move on from the past to embrace their future together. The story was well-paced, fully developed, and very realistic.