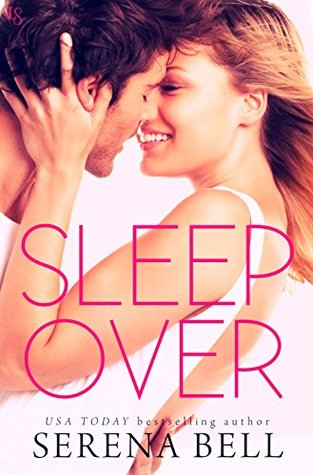 Sleep Over by Serena Bell– Sawyer: After my wife died, I promised myself I'd never go through the pain of losing someone again. Now I keep my flings neat, tidy, and one-time-only. Besides, my son needs me more than ever. He's miserable in our new town, so I'm pumped when he makes friends with the kid next door—until I recognize his mom from a one-night stand. Perky and upbeat, Elle Dunning is not my type for anything other than tearing up the sheets. So why do I keep letting myself get roped into game nights and get-togethers?
Elle: It so hasn't been my year. That's my first thought when I see my new next-door neighbor. I never would have hooked up with Sawyer Paulson if my husband hadn't left me for his high-school sweetheart, but because our eight-year-old boys have become best friends, I've got to make nice with Mr. Tall, Dark, and Silent. Yet the more time we spend together, the more Sawyer opens up. We've both been hurt—badly. So it's one thing to send the kids off to sleepaway camp together. It's quite another to promise each other a lifetime of sleepovers.
Genre: Contemporary Romance
Published: November 13, 2018
Acquired: TBR List
Series: Standalone
My Rating: 3 Stars
My Thoughts: I thought this was going to be a light and fluffy read but it had some surprising layers of depth to it. I will say upfront that there is a lot of sex and naughty parts- almost too much because it began to detract from the story after awhile. I liked seeing the story from the perspectives of both main characters, Elle and Sawyer. Seeing the story from both sides helped me root for both of them to find happiness instead of taking sides. I liked both main characters! Elle was an extremely likable character and Sawyer tugged at my heartstrings throughout the entire book. I absolutely hated Elle's ex husband and spent the majority of the book wanting to throat punch his sorry self. For me, the best secondary characters in the book were the two boys- Elle's son, Madden, and Sawyer's son, Jonah. They were just adorable and really added to the story. There wasn't a huge conflict that came out of nowhere to derail the relationship, which was a nice change. The conflict that did exist was very authentic to the story and the characters' back stories. It was a well written book it just didn't capture me.