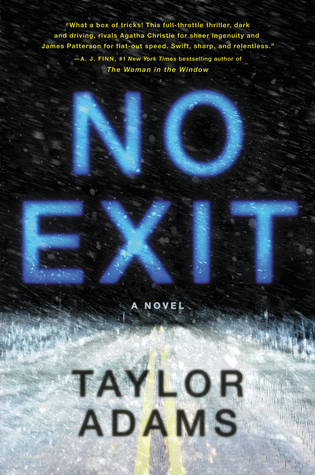 No Exit by Taylor Adams– On her way to Utah to see her dying mother, college student Darby Thorne gets caught in a fierce blizzard in the mountains of Colorado. With the roads impassable, she's forced to wait out the storm at a remote highway rest stop. Inside, are some vending machines, a coffee maker, and four complete strangers.
Desperate to find a signal to call home, Darby goes back out into the storm . . . and makes a horrifying discovery. In the back of the van parked next to her car, a little girl is locked in an animal crate.
Who is the child? Why has she been taken? And how can Darby save her?
There is no cell phone reception, no telephone, and no way out. One of her fellow travelers is a kidnapper. But which one?
Trapped in an increasingly dangerous situation, with a child's life and her own on the line, Darby must find a way to break the girl out of the van and escape.
But who can she trust?
Genre: Thriller
Published: January 15, 2019
Acquired: Public library e-book
My Rating: 4 Stars
My Thoughts: I knew I was going to enjoy this book just from the blurb and I was so right. Darby was my favorite kind of character- badass, smart, and willing to do the right thing regardless of the consequences. I literally could not put this book down. I held my iPad in one hand while cooking dinner so I didn't have to stop reading. I ignored my family completely until I was finished and I stayed up way too late because I had to see how it ended. I can easily see this book being made into a movie. I'd go see it!
Darby is on her way to see her dying mother to make amends when a snow storm forces her to stop and hunker down at a rest area with a group of strangers. Roads are closed, cell signal is nonexistent, and her phone battery is almost gone. On the advice of one of the strangers she sets out into the snow in search of a cell signal but she finds something a lot more sinister instead. A little girl trapped in a dog crate in the back of a van. Darby has to figure out which of the four strangers in the rest area are responsible and find a way to save a terrified little girl. The kidnapper seemed obvious but as an avid fan of thrillers I knew there had to be more to the plot. Darby is in a race against time, and a race against evil, to save not only a little girl but herself.