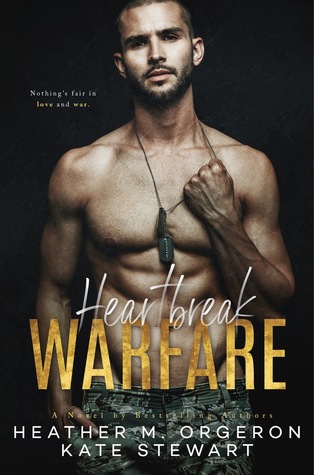 Heartbreak Warfare by Heather M. Orgeron & Kate Stewart
Briggs,
Remember when we parted ways in Germany? It was the day I broke your heart. What you didn't know was that I was breaking mine too. I thought they'd be enough–my husband and my son. That I'd get home and everything would go back to the way it was . . .
Before the war.
Before the ambush.
Before you.
But, no matter how hard I try, I can't erase the trauma we shared. I can't seem to forget the way my heart beat in time with yours. The truth is I'm lost without you. I thought the nightmare was over when they pulled us from that hole in the ground, but nothing could have prepared me for the war I'd face at home. I know it's selfish of me to ask, but, please, I have to see you one last time. . .
All my love,
Scottie
My Rating: 4 Stars
My Thoughts:
This review is a hard one for me. When is emotional infidelity not infidelity but a survival instinct? I admit to having a predisposition against books involving infidelity of any kind. It's typically a hard line for me but I was encouraged by a friend to give this book a try. On the surface this book seems right in my wheelhouse with a strong female lead, a military setting, and an established marriage. But it was so much more than that.
Katy leaves her husband and son to deploy overseas as a military nurse. The first part of this story was real and heartbreaking and gave me all the feels. Reading about the main character leaving her son behind was very emotional. Reading about her first days of deployment felt vivid and real. Reading about the events that led to her capture and the things that happened to her during captivity was profoundly heartbreaking.
It's the events that happened after her rescue that have my emotions battling with my brain. I understand on a fundamental level why she had such a connection to Briggs. I can absolutely see why she struggled to reintegrate back into her normal life. But I can't agree with the decisions she made or how she handled her PTSD. I can't agree with what she did. I wasn't a fan of how neatly everything was wrapped up because it didn't feel realistic. I gave this book 4 stars because the writing was great and the characters were very real. It's my own predisposition that I'm struggling with, not the story itself.