Man, I'm on a roll with these library picks! I've found so many new authors and new books this year all out of a desire to not spend so much money on books. I probably would never have paid for some of these books because they're mostly in the $10-15 range and I'm on a budget. But having them available from the library has been awesome for me.
The Life Lucy Knew by Karma Brown– One woman is about to discover everything she believes-knows-to be true about her life…isn't. After hitting her head, Lucy Sparks awakens in the hospital to a shocking revelation: the man she's known and loved for years-the man she recently married-is not actually her husband. In fact, they haven't even spoken since their breakup four years earlier. The happily-ever-after she remembers in vivid detail-right down to the dress she wore to their wedding-is only one example of what her doctors call a false memory: recollections Lucy's mind made up to fill in the blanks from the coma. Her psychologist explains the condition as honest lying, because while Lucy's memories are false, they still feel incredibly real. Now she has no idea which memories she can trust-a devastating experience not only for Lucy, but also for her family, friends and especially her devoted boyfriend, Matt, whom Lucy remembers merely as a work colleague. When the life Lucy believes she had slams against the reality she's been living for the past four years, she must make a difficult choice about which life she wants to lead, and who she really is.
My Rating: 4 Stars
This book. I spent most of it unsure how to feel about the situation. On one hand I felt bad for Lucy but on the other hand I felt really really bad for her boyfriend, Matt. By the end of the book I identified more with Matt and though Lucy was pretty unlikable. But I was invested and I needed to see the end to know how it worked out. Anytime a book has me that invested I know it was a good read, even if I didn't love the main character!
The Book of Essie by Meghan Maclean Weir– Esther Ann Hicks–Essie–is the youngest child on Six for Hicks,a reality television phenomenon. She's grown up in the spotlight, both idolized and despised for her family's fire-and-brimstone brand of faith. When Essie's mother, Celia, discovers that Essie is pregnant, she arranges an emergency meeting with the show's producers: Do they sneak Essie out of the country for an abortion? Do they pass the child off as Celia's? Or do they try to arrange a marriage–and a ratings-blockbuster wedding? Meanwhile, Essie is quietly pairing herself up with Roarke Richards, a senior at her school with a secret of his own to protect. As the newly formed couple attempt to sell their fabricated love story to the media–through exclusive interviews with an infamously conservative reporter named Liberty Bell–Essie finds she has questions of her own: What was the real reason for her older sister leaving home? Who can she trust with the truth about her family? And how much is she willing to sacrifice to win her own freedom?
My Rating: 4.5 Stars
Wow. This book. Y'all. It was raw, it was gritty, it was uncomfortable to read at times. And I loved it! I'm not going to spoil the story for you but oh my gosh, it's so good! I'll confess I had the story wrong in the beginning. I thought I knew the who, what and why but I was so wrong. This book gripped me from page 1 and I had to finish it! Definitely recommend!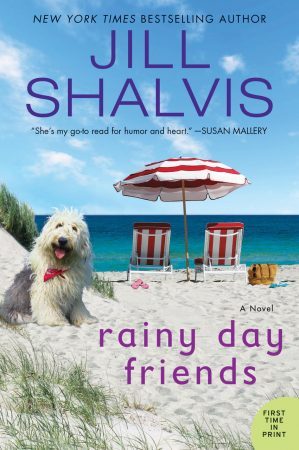 Rainy Day Friends by Jill Shalvis– Six months after Lanie Jacobs' husband's death, it's hard to imagine anything could deepen her sense of pain and loss. But then Lanie discovers she isn't the only one grieving his sudden passing. A serial adulterer, he left behind several other women who, like Lanie, each believe she was his legally wedded wife. Rocked by the infidelity, Lanie is left to grapple with searing questions. How could she be so wrong about a man she thought she knew better than anyone? Will she ever be able to trust another person? Can she even trust herself? Desperate to make a fresh start, Lanie impulsively takes a job at the family-run Capriotti Winery. At first, she feels like an outsider among the boisterous Capriottis. With no real family of her own, she's bewildered by how quickly they all take her under their wing and make her feel like she belongs. Especially Mark Capriotti, a gruffly handsome Air Force veteran turned deputy sheriff who manages to wind his way into Lanie's cold, broken heart—along with the rest of the clan. Everything is finally going well for her, but the arrival of River Brown changes all that. The fresh-faced twenty-one-year old seems as sweet as they come…until her dark secrets come to light—secrets that could destroy the new life Lanie's only just begun to build.
My Rating: 5 Stars
Jill Shalvis is one of my favorites. I enjoy pretty much everything she writes. This book was amazing. It gave me all the feels and I could actually envision the scenes as I was reading them. I love when that happens! Lanie was an amazing main character and I really loved her spunk and determination. The Capriottis were the family we all wish we had- close, loud, and a bit crazy. I think I enjoyed the book so much because I could visualize them as my family in another decade or so. Definitely highly recommend this one.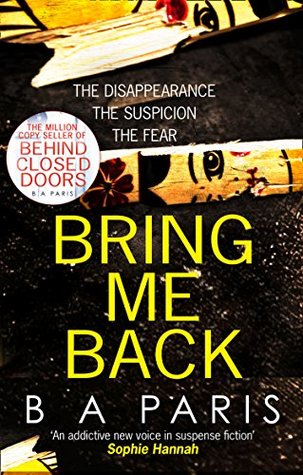 Bring Me Back by B.A. Paris– Finn and Layla are young, in love, and on vacation. They're driving along the highway when Finn decides to stop at a service station to use the restroom. He hops out of the car, locks the doors behind him, and goes inside. When he returns Layla is gone—never to be seen again. That is the story Finn told to the police. But it is not the whole story. Ten years later Finn is engaged to Layla's sister, Ellen. Their shared grief over what happened to Layla drew them close and now they intend to remain together. Still, there's something about Ellen that Finn has never fully understood. His heart wants to believe that she is the one for him…even though a sixth sense tells him not to trust her. Then, not long before he and Ellen are to be married, Finn gets a phone call. Someone from his past has seen Layla—hiding in plain sight. There are other odd occurrences: Long-lost items from Layla's past that keep turning up around Finn and Ellen's house. Emails from strangers who seem to know too much. Secret messages, clues, warnings. If Layla is alive—and on Finn's trail—what does she want? And how much does she know?
My Rating: 3.5 Stars
I have mixed feelings about this book. I enjoyed probably 75% of it and then bam- the ending ruined it for me. I will say that I had absolutely no clue where the book was going to take me. I had no idea the who, what, or why until the very end. So on one hand, it definitely kept me in suspense. But honestly the ending felt like a cop out instead of a big reveal. I ended the book feeling more frustrated than satisfied.