This week I'm sharing 3 more books from my library's ebook collection. Two were really good reads for me and one was just an ok read. I will tell you- the best thing about my library's newly enhanced ebook collection is that I'm reading so many new authors that I wouldn't have read before. It's hard to justify spending $15 on a book that you're not sure you will love. I'm way too cheap for that! And this year I've discovered so many new authors that are now on my must-read list!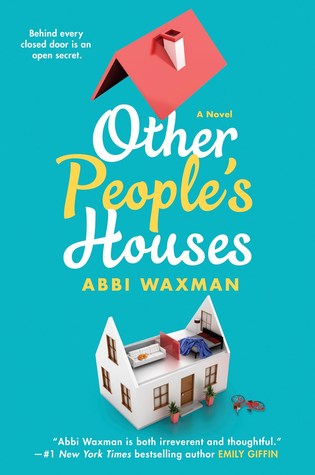 Other People's Houses by Abbi Waxman– At any given moment in other people's houses, you can find…repressed hopes and dreams…moments of unexpected joy…someone making love on the floor to a man who is most definitely not her husband…*record scratch* As the longtime local carpool mom, Frances Bloom is sometimes an unwilling witness to her neighbors' private lives. She knows her cousin is hiding her desire for another baby from her spouse, Bill Horton's wife is mysteriously missing, and now this…After the shock of seeing Anne Porter in all her extramarital glory, Frances vows to stay in her own lane. But that's a notion easier said than done when Anne's husband throws her out a couple of days later. The repercussions of the affair reverberate through the four carpool families–and Frances finds herself navigating a moral minefield that could make or break a marriage.
My Rating: 4.5 Stars
This was so close to being a 5 Star read for me. I'm not even sure I can explain why it's only a 4.5 star read. I think maybe it was because there were so many different POV's and plots going on at one time. It wasn't hard to keep track of or anything like that but I think it disconnected me from the main plot a little bit. Still- a fantastic read and if you're deep in the mommy life right now like I am, you'll enjoy this story. Also- this story is why you don't get that close to your neighbors/carpool buddies. Ha!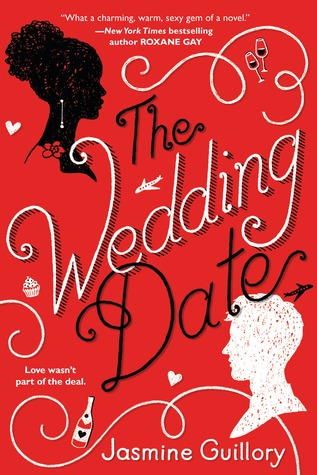 The Wedding Date by Jasmine Guillory– Agreeing to go to a wedding with a guy she gets stuck with in an elevator is something Alexa Monroe wouldn't normally do. But there's something about Drew Nichols that's too hard to resist. On the eve of his ex's wedding festivities, Drew is minus a plus one. Until a power outage strands him with the perfect candidate for a fake girlfriend. After Alexa and Drew have more fun than they ever thought possible, Drew has to fly back to Los Angeles and his job as a pediatric surgeon, and Alexa heads home to Berkeley, where she's the mayor's chief of staff. Too bad they can't stop thinking about the other. They're just two high-powered professionals on a collision course toward the long distance dating disaster of the century–or closing the gap between what they think they need and what they truly want.
My Rating: 3.5 Stars
I was really excited to read this story when I saw it. I love fake to real relationship stories with unconventional beginnings, which this one definitely had. I liked that the two characters had real life issues to work through. The beginning was a bit stilted for me though. Once it got going (about 1/3 the way through) it reminded me of a rom com movie. I liked the way Alexa's personality was portrayed- independent, sassy, spunky, and driven. She had backbone and I liked it! I enjoyed the story but it wasn't a 5 star read for me.
Sisters Like Us by Susan Mallery– Divorce left Harper Szymanski with a name no one can spell, a house she can't afford and a teenage daughter who's pulling away. With her fledgeling virtual-assistant business, she's scrambling to maintain her overbearing mother's ridiculous Susie Homemaker standards and still pay the bills, thanks to clients like Lucas, the annoying playboy cop who claims he hangs around for Harper's fresh-baked cookies. Spending half her life in school hasn't prepared Dr. Stacey Bloom for her most daunting challenge—motherhood. She didn't inherit the nurturing gene like Harper and is in deep denial that a baby is coming. Worse, her mother will be horrified to learn that Stacey's husband plans to be a stay-at-home dad…assuming Stacey can first find the courage to tell Mom she's already six months pregnant. Separately they may be a mess, but together Harper and Stacey can survive anything—their indomitable mother, overwhelming maternity stores and ex's weddings. Sisters Like Us is a delightful look at sisters, mothers and daughters in today's fast-paced world, told with Susan Mallery's trademark warmth and humor.
My Rating: 4 Stars
This was SOOOOO close to a 5 star read for me. It was on track to be just that until a main character did something so out of character that it threw me right out of the story. I found my way back but it wasn't the same feeling as before. I hate when that happens. Other than that one thing, this book was amazing. It had family drama, romance, comedy, and a sulky teen daughter. Definitely a worthy read! I haven't read any of the other books in this series but I will now!