Sharing a few more books from the library this week. Two were exceptional 5 star reads and the other one was good but not a favorite. There have been so many great books available from my library's ebook catalog lately that I haven't read anything from my TBR lists in months! I can't tell you how much money I've saved this year on books!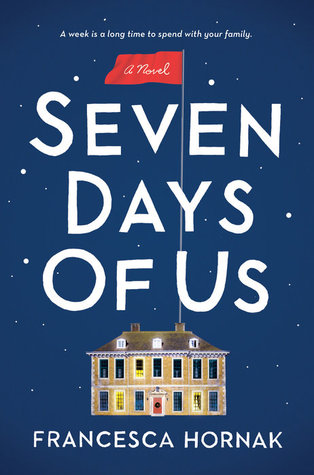 Seven Days of Us by Francesca Hornak– It's Christmas, and for the first time in years the entire Birch family will be under one roof. Even Emma and Andrew's elder daughter—who is usually off saving the world—will be joining them at Weyfield Hall, their aging country estate. But Olivia, a doctor, is only coming home because she has to. Having just returned from treating an epidemic abroad, she's been told she must stay in quarantine for a week…and so too should her family. For the next seven days, the Birches are locked down, cut off from the rest of humanity—and even decent Wi-Fi—and forced into each other's orbits. Younger, unabashedly frivolous daughter Phoebe is fixated on her upcoming wedding, while Olivia deals with the culture shock of being immersed in first-world problems. As Andrew sequesters himself in his study writing scathing restaurant reviews and remembering his glory days as a war correspondent, Emma hides a secret that will turn the whole family upside down. In close proximity, not much can stay hidden for long, and as revelations and long-held tensions come to light, nothing is more shocking than the unexpected guest who's about to arrive.
My Rating: 3.5 Stars
I had very high hopes for this book and it did meet some of them. The characters were well developed but I didn't connect with them very well. There were a number of surprises and twists which were good but the story wasn't as fast paced. It reminded me a bit of The Family Stone, which is one of my favorite movies, but it didn't connect as well. Still an enjoyable read and I'm glad I chose this one and stuck with it.
The Woman Left Behind by Linda Howard– Jina Modell works in Communications for a paramilitary organization, and she really likes it. She likes the money, she likes the coolness factor—and it was very cool, even for Washington, DC. She liked being able to kick terrorist butts without ever leaving the climate-controlled comfort of the control room. But when Jina displays a really high aptitude for spatial awareness and action, she's reassigned to work as an on-site drone operator in the field with one of the GO-teams, an elite paramilitary unit. The only problem is she isn't particularly athletic, to put it mildly, and in order to be fit for the field, she has to learn how to run and swim for miles, jump out of a plane, shoot a gun…or else be out of a job. Team leader Levi, call sign Ace, doesn't have much confidence in Jina—who he dubbed Babe as soon as he heard her raspy, sexy voice—making it through the rigors of training. The last thing he needs is some tech geek holding them back from completing a dangerous, covert operation. In the following months, however, no one is more surprised than he when Babe, who hates to sweat, begins to thrive in her new environment, displaying a grit and courage that wins her the admiration of her hardened, battle-worn teammates. What's even more surprising is that the usually very disciplined GO-team leader can't stop thinking about kissing her smart, stubborn mouth…or the building chemistry and tension between them. Meanwhile, a powerful Congresswoman is working behind the scenes to destroy the GO-teams, and a trap is set to ambush Levi's squad in Syria. While the rest of the operatives set off on their mission, Jina remains at the base to control the surveillance drone, when the base is suddenly attacked with explosives. Thought dead by her comrades, Jina escapes to the desert where, brutally tested beyond measure, she has to figure out how to stay undetected by the enemy and make it to her crew in time before they're exfiltrated out of the country. But Levi never leaves a soldier behind, especially the brave woman he's fallen for. He's bringing back the woman they left behind, dead or alive.
My Rating: 5 Stars
I adore Linda Howard. I've read every book she's ever written and almost all of them have been 5 Star reads for me. This one was no exception. It was fast paced, high tension, and HOT! I loved it! I loved the feisty attitude of the main character and how she never gave up. I loved her connection with the team and their interactions together. I finished this book in 6 hours and stayed up until 3am so I didn't have to stop reading. There aren't many books that I'll lose that much sleep for. Ha! Definitely a must read for me!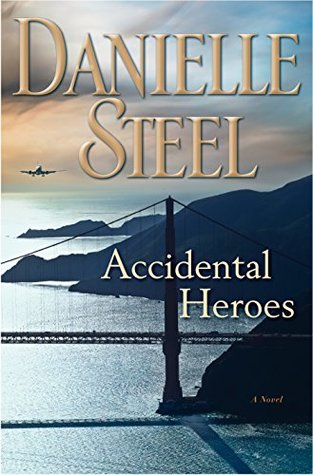 Accidental Heroes by Danielle Steel– On a beautiful May morning at New York's John F. Kennedy airport, two planes have just departed for San Francisco—one a 757, another a smaller Airbus A321. At a security checkpoint, TSA agent Bernice Adams finds a postcard of the Golden Gate Bridge bearing an ambiguous—perhaps ominous—message. Her supervisor dismisses her concerns, but Bernice calls security and soon Ben Waterman arrives. A senior Homeland Security agent, still grappling with guilt after a disastrous operation in which hostages were killed, Ben too becomes suspicious. Who left the postcard behind, which flight is that person on, and what exactly does the message mean? As Ben scans the passenger manifests, his focus turns to the A321, with Helen Smith as its senior pilot. Helen's military service and her tenure with the airline have been exemplary. But her husband's savage death in Iraq was more than anyone should bear, leaving her widowed with three children. A major film star is on board. So is an off-duty pilot who has just lost his forty-year career. So is a distraught father, traveling with the baby son he has abducted from his estranged wife. Sifting through data and relying on instinct, Ben becomes convinced that someone on Helen's plane is planning something terrible. And he's right. Passengers, crew, and experts on the ground become heroes out of necessity to try to avert tragedy at the eleventh hour. In her stunning novel, Danielle Steel combines intense action with stories of emotionally rich, intertwined lives. As the jet bears down on its destination of San Francisco, strangers are united, desperate choices are made, and futures will be changed forever by a handful of accidental heroes.
My Rating: 5 Stars
Oh. My. Gosh. This book. It was amazing! I was hooked from the blurb and once I started reading I could not stop. I finished this one in less than 10 hours because it was THAT good! I had to know what happened. I've been a huge fan of Danielle Steel for over 2 decades (dang, I'm old) and this is probably in the Top 5 of my favorite books by her ever. I found myself flip flopping over what I thought was happening and who might be involved. It wasn't until the very end of the book that I figured it out. The characters are well developed and you can feel their emotions as you read. This is a definite keeper for me!