This week I'm sharing 3 more books I borrowed from the local library's ebook collection. I've saved so much money, gotten to explore different genres, and discovered so many great authors this year because of this library ebook collection. I love it!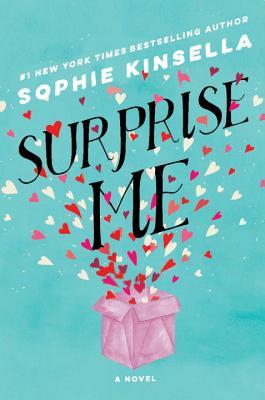 Surprise Me by Sophie Kinsella– After being together for ten years, Sylvie and Dan have all the trimmings of a happy life and marriage; they have a comfortable home, fulfilling jobs, beautiful twin girls, and communicate so seamlessly, they finish each other's sentences. However, a trip to the doctor projects they will live another 68 years together and panic sets in. They never expected "until death do us part" to mean seven decades. In the name of marriage survival, they quickly concoct a plan to keep their relationship fresh and exciting: they will create little surprises for each other so that their (extended) years together will never become boring. But in their pursuit to execute Project Surprise Me, mishaps arise and secrets are uncovered that start to threaten the very foundation of their unshakable bond. When a scandal from the past is revealed that question some important untold truths, they begin to wonder if they ever really knew each other after all.
My Rating: 4 Stars
I laughed out loud quite a few times while reading this one. I always enjoy a Sophie Kinsella book and this one was no exception. I related to the characters because they've been married for awhile and I could imagine my reaction in their situation. It made the story much more real and even better for me. It fell firmly in the Chick Lit category for me but it did have some surprisingly serious parts.
Just Between Us by Rebecca Drake– Alison, Julie, Sarah, Heather. Four friends living the suburban ideal. Their jobs are steady, their kids are healthy. They're as beautiful as their houses. But each of them has a dirty little secret, and hidden behind the veneer of their perfect lives is a crime and a mystery that will consume them all. Everything starts to unravel when Alison spots a nasty bruise on Heather's wrist. She shares her suspicions with Julie and Sarah, compelling all three to investigate what looks like an increasingly violent marriage. As mysterious injuries and erratic behavior mount, Heather can no longer deny the abuse, but she refuses to leave her husband. Desperate to save her, Alison and the others dread the phone call telling them that she's been killed. But when that call finally comes, it's not Heather who's dead. In a moment they'll come to regret, the women must decide what lengths they'll go to in order to help a friend. Just Between Us is a thrilling glimpse into the underbelly of suburbia, where not all neighbors can be trusted, and even the closest friends keep dangerous secrets. You never really know what goes on in another person's mind, or in their marriage.
My Rating: 5 Stars
Oh my gosh. I loved loved loved this book. I seriously could not put it down. The story was fast paced and full of tension. I loved all the twists and turns and couldn't wait to see the ending. The characters were real and flawed and very easy to relate to. If you love psychological thrillers then you'll enjoy this one. One of my favorite new quotes (that I posted on Instagram) came from this book.
"This is the way of fate – all of these pieces that must slot into place, one leading to the other, a progression toward a conclusion that seems inevitable only after the fact"
Sometimes I Lie by Alice Feeney– My name is Amber Reynolds. There are three things you should know about me: 1. I'm in a coma. 2. My husband doesn't love me anymore. 3. Sometimes I lie. Amber wakes up in a hospital. She can't move. She can't speak. She can't open her eyes. She can hear everyone around her, but they have no idea. Amber doesn't remember what happened, but she has a suspicion her husband had something to do with it. Alternating between her paralyzed present, the week before her accident, and a series of childhood diaries from twenty years ago, this brilliant psychological thriller asks: Is something really a lie if you believe it's the truth?
My Rating: 3.5 Stars
I'm not sure about this one. The blurb caught me and I couldn't wait to read it. The beginning was a bit slow and had a hard time holding my attention but then BAM. It was as if the author packed every single thing that could possibly happen into the last 1/3 of the book. It was a bit much all at once and that lowered the believable factor for me. But I didn't guess the ending and the last 1/2 of the book definitely held my attention. The story is told in alternating present, past, and diary style entries but it doesn't detract from what's going on. If you like psychological thrillers then you'll probably enjoy this one.