Today I'm sharing 2 books by 2 of my most favorite authors! These authors are must reads for me no matter what they write. I borrowed both these books from the local library and enjoyed them so much!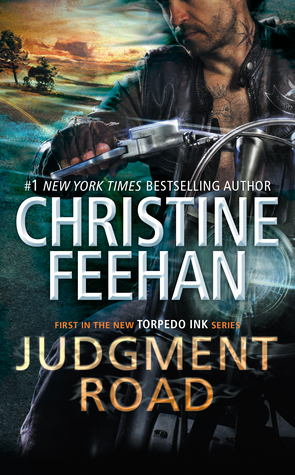 Judgment Road by Christine Feehan– As the enforcer of the Torpedo Ink motorcycle club, Reaper lives for riding and fighting. He's a stone-cold killer who turns his wrath on those who deserve it. Feelings are a weakness he can't afford–until a gorgeous bartender gets under his skin…Near Sea Haven, the small town of Caspar has given Anya Rafferty a new lease on life. And she's desperate to hold on to her job at the biker bar, even if the scariest member of the club seems to have it out for her. But Reaper's imposing presence and smoldering looks just ratchet up the heat. Anya's touch is everything Reaper doesn't want–and it brands him to the bone. But when her secrets catch up to her, Reaper will have to choose between Anya and his club–his heart and his soul.
My Rating: 5 Stars
This is the first book in a new series that's a spinoff of both the Sea Haven and Sisters of the Heart series. You see a lot of the same characters and that makes it so much fun for me to read. It's like reuniting with old friends! I enjoyed this book a lot. I wasn't sure how much I would love this second spin off series but it started with a bang! I can't wait to read the rest of the books!
Dark in Death by J.D. Robb– It was a stab in the dark. On a chilly February night, during a screening of Psycho in midtown, someone sunk an ice pick into the back of Chanel Rylan's neck, then disappeared quietly into the crowds of drunks and tourists in Times Square. To Chanel's best friend, who had just slipped out of the theater for a moment to take a call, it felt as unreal as the ancient black-and-white movie up on the screen. But Chanel's blood ran red, and her death was anything but fictional. Then, as Eve Dallas puzzles over a homicide that seems carefully planned and yet oddly personal, she receives a tip from an unexpected source: an author of police thrillers who recognizes the crime—from the pages of her own book. Dallas doesn't think it's coincidence, since a recent strangulation of a sex worker resembles a scene from her writing as well. Cops look for patterns of behavior: similar weapons, similar MOs. But this killer seems to find inspiration in someone else's imagination, and if the theory holds, this may be only the second of a long-running series. The good news is that Eve and her billionaire husband Roarke have an excuse to curl up in front of the fireplace with their cat, Galahad, reading mystery stories for research. The bad news is that time is running out before the next victim plays an unwitting role in a murderer's deranged private drama—and only Eve can put a stop to a creative impulse gone horribly, destructively wrong.
My Rating: 5 Stars
And yet another awesome installment in the In Death series that I love so much! This is book #46 and I still get so excited with every new story she writes. I highly recommend this one…and all of them! The mystery was good, the plot flowed, and the characters were as amazing as ever.