The two books I'm sharing this week were both ones I borrowed from the library on my iPad and they were good! Part of my reading goals this year were to branch out into different genres and to save money on books. I'm doing a great job with both of those goals!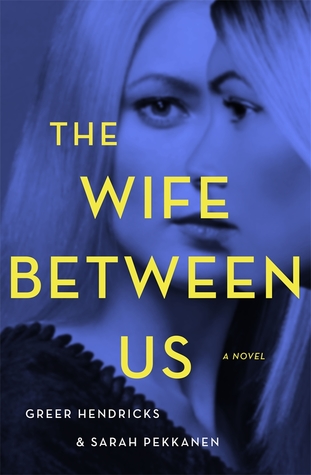 The Wife Between Us by Greer Hendricks– When you read this book, you will make many assumptions. You will assume you are reading about a jealous wife and her obsession with her replacement. You will assume you are reading about a woman about to enter a new marriage with the man she loves. You will assume the first wife was a disaster and that the husband was well rid of her. You will assume you know the motives, the history, the anatomy of the relationships. Assume nothing.
My Rating: 4.5 Stars
This book! THIS BOOK. I had no idea what I was getting into. I didn't read any spoilers or skip ahead. I just started it and then 10 hours later I could not go to sleep until I finished the remaining 100 pages. It was nothing like what I expected and those are the books I love the most. This book took twists and turns and changed directions until I was so invested that I had to know how it ended. Definitely recommend! But do yourself a favor and go into it blind. Don't read spoilers. Just experience it.
Fake Wife by Stacey Lynn– Corbin: I loved my grandma, but I don't need her money. All I care about is keeping the house—the only place that's ever felt like home. That, and screwing over my dad, who wants to turn the property into a mall. There's only one catch: To receive my inheritance, I have to get married within six months. Me, the guy who's never dated a girl for more than six minutes. Now I need to find a woman I can trust. So when I'm rear-ended by a Prius, I figure it's a sign that I'm supposed to meet gorgeous, down-to-earth Teagan Monroe. Teagan: First I lose my job. Then I come home and find out—in the most graphic way possible . . . yeah, that way—that my boyfriend is a cheating jerk. And then I speed off and nearly kill Portland's sexiest bachelor. Corbin Lane should be pissed. Instead, he offers me more money than I've ever seen in my life to marry him and live together in a mansion for two years. No sex. No feelings. Just cash—enough to make all my dreams come true. Then we go and break all our rules . . . and I realize I'm falling in love with my fake fiancé.
My Rating: 3.5 Stars
I got sucked in by this one because I'm a real sucker for the whole marriage of convenience storyline. I don't know why. Same reason I love that Married at First Sight show on TV. This book was good. It held my interest and I was invested in the relationship and how it ended. It was a light read that didn't make me have all the feels, which I needed after reading the book I shared above!