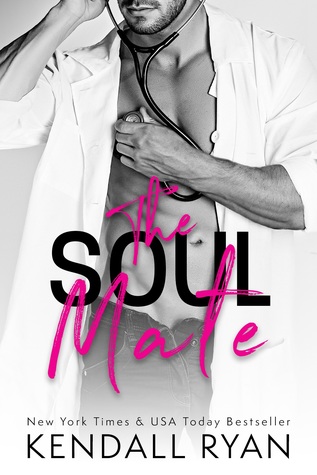 The Soul Mate by Kendall Ryan– The smoking-hot one-night stand I was never supposed to see again? Yeah, well, I might be pregnant, and he's my OB-GYN. Get ready to fall head over heels madly in love with the hottest OBGYN doctor you have ever met! This full-length standalone contains the most hilariously awkward lady-doctor visit, lots of playful banter and some good ol' fashioned baby-makin'! One-click now for this summer's swooniest read.
My Rating: 4 Stars
This book was not at all what I expected. It was good, it was just not the story I thought I was getting. At all. I enjoyed it but the blurb is misleading. It's well written and I really enjoyed the banter between the main characters. I liked Mason more than Bren, I found her to be annoying for most of the book. This was a quick enjoyable fluffy read which is what I needed after a couple of heavy books.
Built by Jay Crownover– Sometimes you have to tear everything down to build something new. Sayer Cole is frozen inside. At least, that's what it's felt like for as long as she can remember. She's yet to let anyone past her icy exterior – and the one guy she thinks might melt her heart couldn't possibly be interested in someone so uptight. Rough, hard and hot-as-hell, Zeb Fuller has rebuilt his life and his construction business since protecting his family sent him to jail all those years ago. His elegant client, Sayer, makes him feel like a Neanderthal in denim, but despite the many hints that he's been dropping to get to know her better, she seems oblivious to his charms. Just as things finally start to heat up, Zeb's past comes back to haunt him and he needs Sayer's professional help to right a wrong and to save more than himself. As these opposites dig in for the fight of their lives, fire and ice collide in an unstoppable explosion of steam.
My Rating: 5 Stars
I knew I would love this book. This series is a spin off of the Marked Men series, which was so fabulous. The characters in this new series, Saints of Denver, were secondary characters in the Marked Men series. I enjoyed every bit of this book. Sayer was a tough cookie who I was so frustrated with for the majority of the book but one you get into her history it's easy to see why she was that way. Zeb, on the other hand, was swoon worthy. They had to really work for their relationship and nothing came easy for them. But man, it was an amazing read! I had this one in my unread shelf for so long and I'm kicking myself that I didn't read it long before now.