I've got 2 good books to share with you today! Both of them were books that I've been anxiously waiting for at the library.
Cemetery Girl by David Bell– Four years after Tom and Abby's 12-year-old daughter vanishes, she is found alive but strangely calm. When the teen refuses to testify against the man connected to her disappearance, Tom decides to investigate the traumatizing case on his own. Nothing can prepare him for what he is about to discover.
My Rating: 4 Stars
I read another one of David Bell's books a couple of months ago and enjoyed it so I added this one to my queue on Overdrive. I was not disappointed. I don't want to say too much because you really need to go into this one blind. I will say that the first part of the story was how I expected, but then it went a direction I was not anticipating. I can't say that I agree with the actions of the father. I didn't understand him for most of the book and I really did not understand him by the end. But that inner conflict made the story better for me.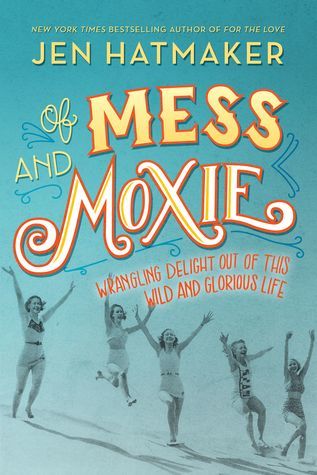 Of Mess and Moxie by Jen Hatmaker– Jen Hatmaker believes backbone is the birthright of every woman. Women have been demonstrating resiliency and resolve since forever. They have incredibly strong shoulders to bear loss, hope, grief, and vision. She laughs at the days to come is how the ancient wisdom writings put it. But somehow women have gotten the message that pain and failure mean they must be doing things wrong, that they messed up the rules or tricks for a seamless life. As it turns out, every last woman faces confusion and loss, missteps and catastrophic malfunctions, no matter how much she is doing "right." Struggle doesn't mean they're weak; it means they're alive. Jen Hatmaker, beloved author, Big Sister Emeritus, and Chief BFF, offers another round of hilarious tales, frank honesty, and hope for the woman who has forgotten her moxie. Whether discussing the grapple with change ("Everyone, be into this thing I'm into! Except when I'm not. Then everyone be cool.") or the time she drove to the wrong city for a fourth-grade field trip ("Why are we in San Antonio?"), Jen parlays her own triumphs and tragedies into a sigh of relief for all normal, fierce women everywhere who, like her, sometimes hide in the car eating crackers but also want to get back up and get back out, to live undaunted "in the moment" no matter what the moments hold.
My Rating: 5 Stars
I adore this book. I adore it so much. Reading one of her books is like sitting having a glass of wine with a friend. I laughed so hard while reading this one. Full of funny stories about her family in addition to some real talk about some difficult topics, this book hit all my buttons. I especially related to the chapter on grocery shopping. I may or may not have read half of this book out loud to Matt in between laughter. I highly highly recommend this one!
A couple of my favorite quotes:
"Oh sure, MTV hit the scene in 1981, but we couldn't watch it because of the devil. Apparently we could watch a show starring two outlaw brothers, their half-naked cousin, and a car painted with the Confederate flag but couldn't watch Madonna sing "Like a Virgin" because we might get secondhand pregnant." Hahahahahaha!
"If these children don't like it, they can grow up and move out one day and make their own dinners, and may God bless them with kids who only eat processed cheese slices on white bread." Thank you and Amen.
I highlighted about a hundred more but you should just read the book so I don't get a cease and desist letter from Jen Hatmaker's lawyer. haha!